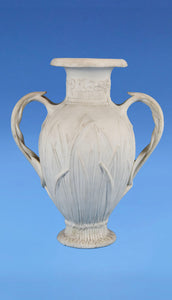 Nick Boston Antiques
Rare Minton 'Well Spring' Vase c.1847 Designed by Richard Redgrave
Regular price
£0.00
Unit price
per
Rare Minton 'Well Spring' Vase c.1847 Designed by Richard Redgrave, produced for the Felix Summerley's Art Manufacturer's Alliance.
Height:22cm
An example is held in the collection of the Los Angeles Museum of Contemporary Art

A porcelain polychrome example is held in the collection of the Victoria & Albert Museum. The V&A website says of the vase:
Object Type

This vase, in a design known as the 'Well Spring', was by the painter and writer Richard Redgrave (1804-1888), later Surveyor of the Queen's Pictures. It was one of the designs made for 'Felix Summerly's Art Manufactures' and is an example of early Victorian design especially promoted by Henry Cole (1808-1882), in which the decoration describes the function of the object.

Historical Associations
In response to the Society of Arts' offer, made in 1845, of a prize for designs for a tea service, Henry Cole, using the pseudonym Felix Summerly, produced a design that was executed by Minton. This won a silver medal in the competition held in 1846 and the experience led Cole to believe that it would 'promote public taste' if well-known painters and sculptors could be persuaded to produce designs for similar functional objects. Accordingly, in 1847 he founded 'Summerly's Art Manufactures', which lasted for about three years, until his preoccupation with the Great Exhibition of 1851 brought it to an end. However, for some years afterwards individual firms continued to produce objects originally made for Summerly's.
Design
In 1847 Cole noted that 'RR [Richard Redgrave] and Bell [John Bell] thought Artists ought not to design for Manufacturers: apart from Art Manufactures.' But later Redgrave himself observed that fine artists were actually to blame for committing the prime error, which was 'rather to construct ornament than ornament construction'. The Well Spring was Redgrave's first design for the Summerly scheme; it was completed and handed over to Cole on 10 January 1847 and sold to J. F. Christy of Lambeth less than a month later. The manufactured article in its original form with handles was described as 'the Water Jug', and was shown in the Society of Arts Exhibition of Recent British Manufactures in 1848 with the porcelain and Parian versions by Minton.
---
Share this Product
---