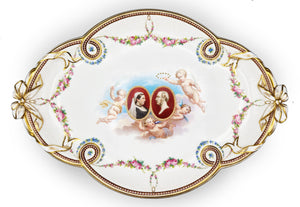 Nick Boston Antiques
Rare Minton Porcelain 'Queen Victoria & Prince Albert' Tray in the French Style c.1870, shown at the London Exhibition 1871 by Thomas Goode & Co.
Regular price
£0.00
Unit price
per
Sold
Rare Large Minton Porcelain 'Queen Victoria & Prince Albert' Tray in the 18th century Sevres,French Style manufactured c.1870, painted by Antonin Boullemier and shown at the London 1871 Exhibition by Thomas Goode & Co.
Length: 41cm
The hand painted shaped oval dish with ribbon handles at each end and a border of delicately painted pearls and floral swags, the centre decorated with a scene of angels amongst clouds attending two oval medallions showing Queen Victorian and Prince Albert, one angel holding a halo above Albert. Impressed 'Minton' mark to read together with a paper label reading 'International Exhibition of 1871, Exhibitors name, T.Goode & Co.number of object 1, as on list'.  
The painter, Antonin Boullemier was recognised as Minton's premier cherub painter and who produced many of their highest exhibition quality dinner services for many years. He often worked in this 18th French Sevres style which had become fashionable.  in Britain after Queen Victoria purchased the 'Victoria pierced' ( as it was later known) dinner service designed in the Sevres style at the Great Exhibition 1851. Queen Victoria went on to purchase more pieces in this style from Minton and was frequently presented with similar porcelain gifts from Royal relatives which all now reside in the Royal Collection.

Thomas Goode & Co. the most successful 19th century porcelain retailers, located in South Audley Street, London were Minton's largest clients who at the Paris Exhibition 1878, purchased every single item from the Minton display. Thomas Goode only wanted the very best porcelain for their clients. Goode & Son, also exhibited at the large International Exhibitions alongside the great porcelain and pottery companies of Minton and the Royal Worcester Porcelain Co.
This 19th century Minton Queen Victoria and Prince Albert commemorative tray represents the highest porcelain quality that was manufactured by the premier porcelain manufacturer and was displayed at an International Exhibition by the very top ceramic retailer in the World.
For more reading on Minton porcelain, Antonin Boullemier and Thomas Goode & Co see 'Minton, The first two hundred years of design and production' Joan Jones, Swan Hill Press, 1993.
---
Share this Product
---