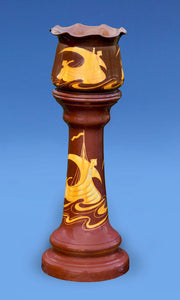 Nick Boston Antiques
Bretby Glazed Terracotta Arts & Crafts Sgraffito Jardiniere on Stand c.1900
Regular price
£0.00
Unit price
per
Height:82cm (32inches)
Impressed Bretby and shape number '1376'
The rich brown glazed terracotta ground with beautifully incised, powerful and energetic images of galleons in full sail on the high seas.
The galleon at sea (craft) was a popular motif of the British Arts & Crafts Movement.

For information on Bretby Pottery see https://en.wikipedia.org/wiki/Bretby_Art_Pottery
Sgraffito, (Italian: "scratched") a technique used in painting, pottery, and glass, which consists of putting down a preliminary surface, covering it with another, and then scratching the superficial layer in such a way that the pattern or shape that emerges is of the lower colour.
---
Share this Product
---